The Internet is the biggest resource of information today. There are billions of websites that are full of data for us to use. Due to this, many people go online when searching for goods and services to buy. Therefore, it is important (Importance of Residential IPs)for businesses and enterprising individuals to have websites indicating their expertise. Every computer has a unique Internet Protocol (IP) address used for connecting to the Internet. It is utilized for identification and tracking purposes. To promote security, it is possible to hide your actual IP address behind another one. This secondary address is known as a proxy IP address. It can be issued by your Internet Service Provider (ISP) or a datacenter. A proxy issued by your ISP is known as a residential proxy (Rotating Residential Proxies for Future) while the one issued by a datacenter is known as a datacenter proxy. Here is more about Microleaves residential proxies and why they are important.
What is a residential proxy?
A residential proxy is an IP address that is provided by an Internet Service Provider (ISP). It is delivered through DS or cable and wired right into your home or office. This type of proxy allows you to connect to the Internet and surf while masking your location. Why would you want to mask your location with a residential proxy? Read on to find out.
Why would you need a residential proxy?
When you connect to the Internet, your computer is assigned an IP address by your Internet Service Provider (ISP). Your IP address can be dynamic or static. A static one does not change. This means that it remains the same every time that you go online. On the other hand, a dynamic IP address changes from time to time. It can be one number today and another number tomorrow. However, both types share one characteristic. They can allow people online or the websites that you visit to find out your location and Internet surfing behavior. Essentially, you can be tracked using your IP address.
There are websites which display information about IP addresses. An example of such is WhatIsMyIPAddress.com. When you navigate to it, this site will display your IP address as well as information about you. This information includes your location, a map of where you are and the name of your ISP provider. Therefore, if someone hacks you and finds out your IP address, they can easily find out your location and more. This puts you and your computer information at risk online.
To avoid this form of tracking, residential proxies are used. They are simply IP addresses that are assigned on top of your original one so as to mask it. They allow access to the Internet while protecting you from getting tracked by a website or someone else online. If someone finds out your residential proxy and tries to trace you, they can only get as far as you ISP but will not get any location or personal details from it. In this way, you are anonymous on the Internet. So how are residential proxies assigned? Read on to find out.
Here is how residential proxies are created
The main objective of having a proxy is to mask your location. Therefore, providers of residential proxies take personal IP addresses from one part of the world and sell them to clients in other locations. For example, a personal IP address provided by AT&T in California can be sold to a client in Colombia. This way, the Colombian can surf the Internet with an address that shows their location as California. In this way, their location is protected from tracking.
There are sites that blacklist suspicious IP addresses. Microleaves residential proxies prevent you from getting blacklisted. This is because these addresses are legitimate and not random numbers generated for proxy purposes. If the website owners track your residential proxy, they will arrive at an ISP. This shows that you are a legitimate person and not a robot. In this way, a residential proxy gives you unlimited access to all the sites on the Internet. Due to their additional capability, residential proxies normally cost more than regular datacenter proxies (Difference Between Residential Proxies and Datacenter Proxies).
Advantages of using residential proxies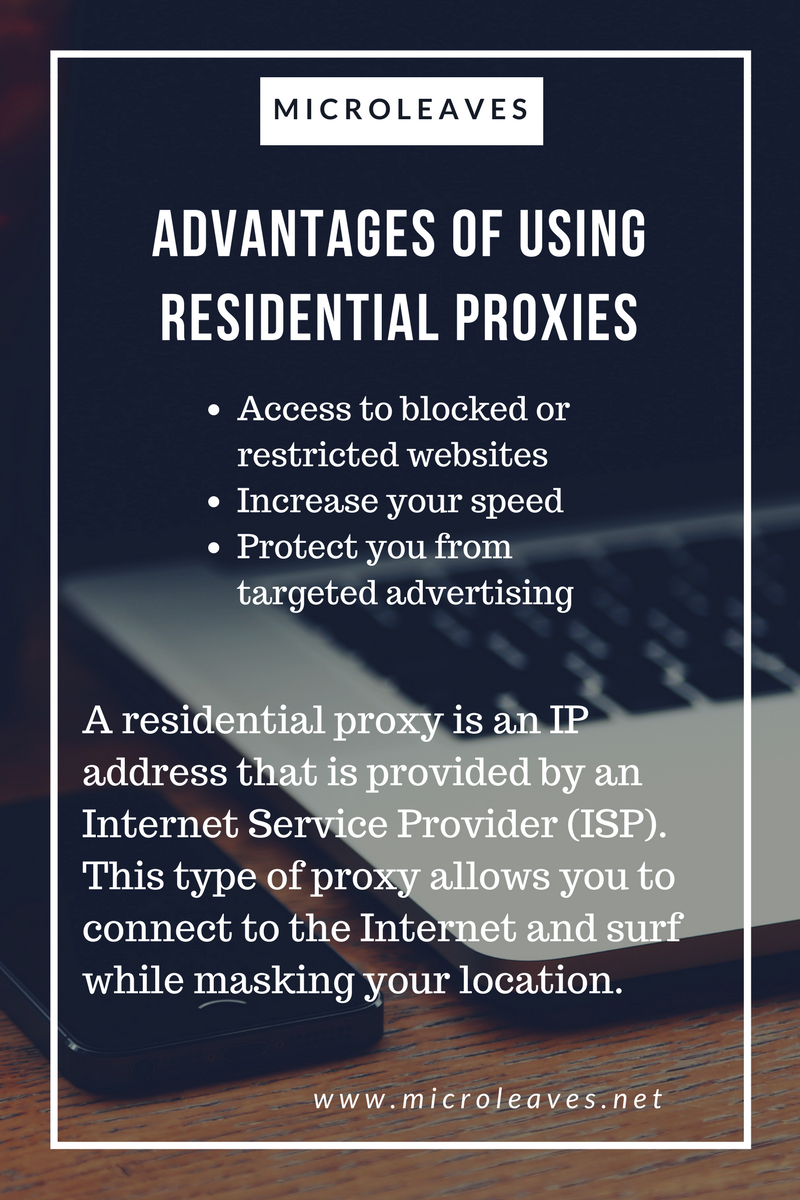 Access to blocked or restricted websites
In addition to universal access all over the Internet, residential proxies normally have a number of other benefits. Firstly, you can access websites that are blocked or filtered by your institution or ISP. In some cases, organizations or academic institutions normally restrict access to specific websites. In case you want to see the contents of these websites, you can use a residential proxy. Simply redirect your browser to the residential proxy address and you will have direct, uninterrupted access to the previously blocked site.
Increase your speed
They can increase download and upload speed. Residential proxies can cache web pages so as to provide more efficient content delivery. In doing so, access to the contents of websites and documents is sped up significantly. Whenever you search for some content through a residential proxy, it will first of all look for the requested material in its cache. Examples of data it can direct this way include pictures, documents, and video. If the content is cached there, you will receive it in your computer much faster than if the proxy had to go directly online in search for it. This increases your Internet access speed dramatically.
Protect you from targeted advertising
Residential proxies can protect you from targeted advertising online. Many websites today make use of geo-location technology. They track your IP address and find out your location. After that, they can send you targeted advertisements that are relevant to your position. These ones can be annoying and are evidence of getting tracked online. Since the residential proxies divert and mask your location, they are a great protective measure against such aggressive marketing strategies.
Conclusion
In this day and age, Internet security is a major concern. Hackers are getting more sophisticated. Therefore, you should invest in some security measures to protect your computer system from their tracking efforts. Residential proxies work well in providing this form of protection. Microleaves residential proxies can help to protect your identity and location online. Therefore, if you handle sensitive information and still require extensive access online, they are a great investment to make.