VPN services and web proxies are essential for personal and business environments in the modern day. Proxies not only offer security and reliability but they also help you unlock many important resources on the web that might not have been available otherwise. There are many different kinds of proxy services in the market today. There are also numerous companies that have dedicated themselves to offering reliable proxy services. Due to changing dynamics, it is now often recommended to buy backconnect proxy as it offers more features. Reputable companies like Microleaves have offered these kinds of proxies for a considerable amount of time. Generally, there are a number of things you need to avoid when choosing a reliable proxy. Here are some of them.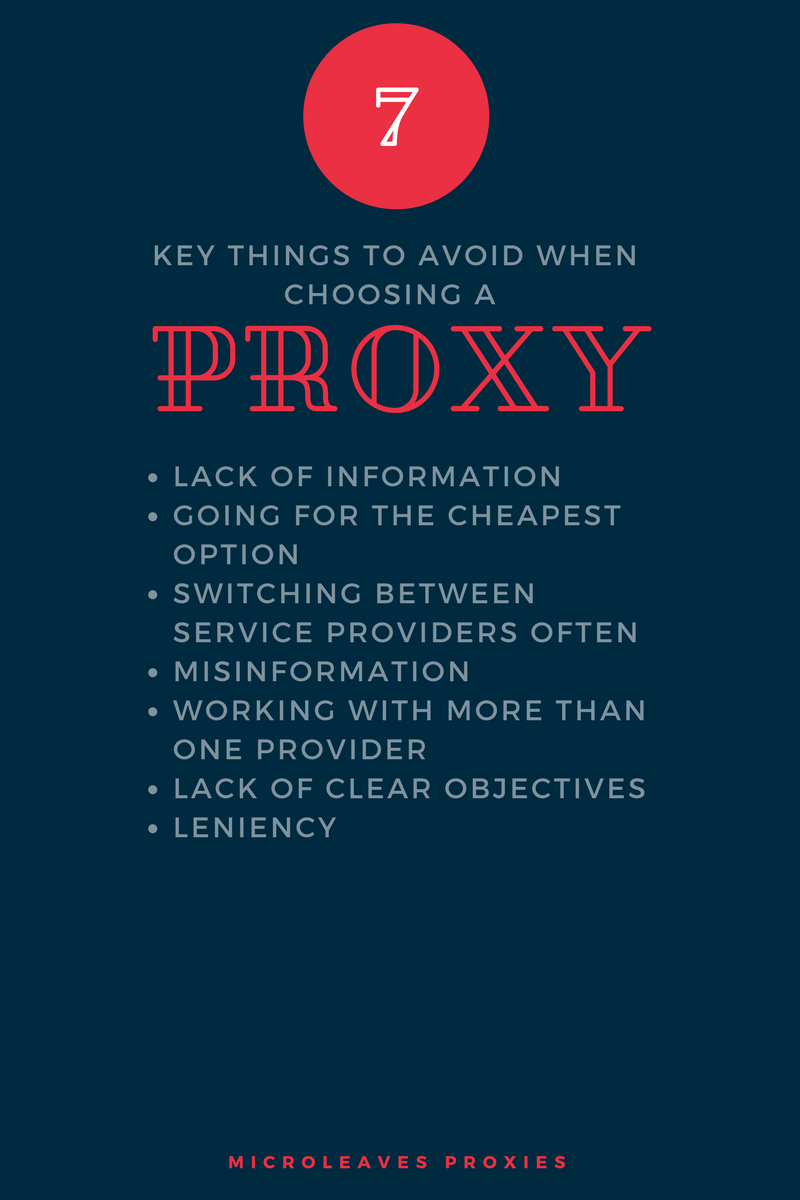 Lack of Information
It is very important to be informed when purchasing any kind of product. For proxies, you need to be aware of many aspects of the service in order to gauge your personal needs. You also need to be informed about the products available in the market and their cost. This enables you to choose products that would be suitable for you. In addition, you need to look at the service provider in order to understand their terms of service provision. Looking up all this information will definitely help you make the right decision when it comes to choosing a reliable proxy.
Going For the Cheapest Option
It is no secret that many people have reservations when it comes to spending heavily on any kind of service. When choosing a good proxy, putting the cost of service before considering other important factors like uptime and overall reliability can be really costly in the long-run. Extremely cheap proxy service providers often compromise on important aspects in order to offer cheap services. Choosing a cheap proxy can, therefore, sometimes even be counterproductive as they may take away the security that you are looking for. The best way of levering between cost and value would be to look at the features of any particular proxy and then consider the price afterward. Issues like speed, bandwidth, and support services are very critical to be downplayed.
Switching Between Service Providers Often
When investing in a service, it is always best to consider investing for the long-run. There are many reasons why it is an unwise move to move between different service providers from time to time. The first reason is that doing so often leaves your security in a vulnerable position. Different companies use different methods to improve their clients' security. Switching between service providers can often leave you confused as you try to get acquainted with new settings each time. Sticking to one service provider is beneficial as you are able to enjoy a close working relationship with your service provider as well as the benefits that come with that relationship.
Misinformation
In a free web where everybody is free to do whatever they like, you might often find yourself on the wrong side of the internet. There are many websites and blogs whose aim is to mislead innocent clients and probably scam them. When looking for reliable proxy services, always visit trusted websites to get the correct information. Getting information from unverified and unclear sources can cost you heavily. Always ensure that the website you are seeking information from is the verified website for a particular company. If possible, you can also visit offline offices for a credible service.
Working With More Than One Provider
One of the best things about proxies is that they offer comprehensive services such that there is no need to work with multiple service providers. Even if you lack a proper understanding of features or user guideline, you should never opt for another proxy service provider while still being connected to an initial service provider. Having two proxies on the same network can create conflicts and lead to reduced speeds and compromised security. Multiple proxies also give you a hard time as you try to differentiate between the different platforms when looking to troubleshoot problems. Using multiple service providers can also result in a conflict of interest and misunderstanding between you and the providers. Always consider a single provider after a thorough background check.
Lack of Clear Objectives
Proxy services comprise all sorts of security services and include numerous products. For this reason, you need to have a clear objective before you subscribe to any particular service. You need to totally understand your needs in terms of the scale and type of services you need. If you are running a big network of computers, you need to look at products that cover your scale of operation. If you need a proxy for home use, you also need to look at the appropriate options. You can also opt to buy backconnect proxy for many different added benefits. In overall, you need to have a proper vision in order to get the best value.
Leniency
As a client, the most important thing to you is value for services. In order to obtain this value, you need to avoid leniency and do all the right checks and balances that pertain to establishing the veracity of a service provider. You need to do proper background checks, market analysis and credibility of a particular company before doing business with them. Failure to do such background checks can often leave you in an undesirable position. Companies like Microleaves that are quite reputable in the market are some of those you definitely need to consider as a first priority.
The dynamics of the web are definitely changing every new day. Today, security features are critical to any web user. It is now recommended to use proxy services for improved security and reliability more than ever before. In a world where reports of hacking and information theft have become all too common, there is no reason for disregarding protection. If you want a credible service and secure web experience in the modern day, you definitely need to buy backconnect proxy as it is the best option on the market by far. A secure internet removes doubts in your mind and enables you to be more productive.